Lawsuit Filed after Christian Student Told to Change Biblical Beliefs on Homosexuality or be Expelled from School Counseling Program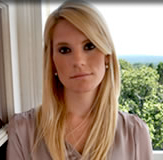 Jennifer Keeton
For over a year now, Jennifer Keeton, 24, has been pursuing a master's degree in school counseling at Augusta State University in Georgia. Although her grades have been excellent and she has shown real promise as a counseling student, faculty and program leaders have informed her that "she'll be dismissed from the program unless she alters her central religious beliefs on human nature and conduct," according to a civil lawsuit filed last week.
After months of emotional distress and conflict about what to do, she decided to sue the University after she was demanded to undergo a remediation program due to her "toxic" biblical and "unethical" beliefs on homosexuality and transgendered persons. Fox News reported that "[Augusta State University] faculty have promised to expel Miss Keeton from the graduate Counselor Education Program not because of poor academic showing or demonstrated deficiencies in clinical performance, but simply because she has communicated both inside and outside the classroom that she holds to Christian ethical convictions on matters of human sexuality and gender identity," the 43-page lawsuit asserted, also noting that "The faculty identifies Miss Keeton's views as indicative of her improper professional disposition to persons of such populations."
Keeton, according to the lawsuit, was informed by school officials in late May that she would be asked to take part in a remediation plan due to faculty concerns regarding her beliefs pertaining to gay, lesbian, bisexual and transgender issues. The remediation plan, according to the lawsuit, noted Keeton's "disagreement in several class discussions and in written assignments with the gay and lesbian 'lifestyle,'" as well as Keeton's belief that those "lifestyles" are cases of identity confusion. If she fails to complete the plan, including attending gay pride parades, additional readings, and the writing of papers describing the adverse impact on her beliefs and indicating changed beliefs, she will be expelled from the Counselor Education Program.
Lead ADF attorney, David French, to another news source, argued that "In other words, [the school's plan would be] deliberately exposing her to behavior that she finds immoral in the hope that she'll accept it. It's ridiculous." He calls it "pure thought reform" and accuses Augusta State of outlining "a program of indoctrination" for Keeton. "Jennifer is not interested in being indoctrinated, she wants to be educated," the lawyer held. "She wants to learn about the counseling profession, she wants to be a good counselor—but being a good counselor does not require that one surrender his or her most fundamental religious beliefs."
Keeton stated that she believes sexual behavior is the "result of accountable personal choice rather than an inevitability deriving from deterministic forces," according to the suit. "She also has affirmed binary male-female gender, with one or the other being fixed in each person at their creation, and not a social construct or individual choice subject to alteration by the person so created," the lawsuit reads. "Further, she has expressed her view that homosexuality is a 'lifestyle,' not a 'state of being.'"
Augusta State University officials declined to comment specifically on the litigation, but said the University does not discriminate on the basis of students' moral, religious, political or personal views or beliefs. "The Counselor Education Program is grounded in the core principles of the American Counseling Association and the American School Counselor Association, which defines the roles and responsibilities of professional counselors in its code of ethics," the statement read. "The code is included in the curriculum of the counseling education program, which states that counselors in training have the same responsibility as professional counselors to understand and follow the ACA Code of Ethics."
This case follows on the heels of the expulsion of 39-year-old Julea Ward from Eastern Michigan University following an almost identical fact pattern. She sued that university for dismissing her after completing three semesters of a four-term program. During the first case, where the AACC filed an amicus brief to assist the Alliance Defense Fund, this case was awaiting decision in federal district court regarding the violation of Ms. Ward's civil, religious, and free speech rights. Fox News recently reported that U.S. District Judge, George Caram Steeh, dismissed Ward's lawsuit against Eastern Michigan University.
"It's a very dangerous precedent," Jeremy Tedesco, legal counsel for the conservative Alliance Defense Fund, told Fox News Radio. He further argued that this dismissal could result in Christian students across the country being expelled from public universities for similar views. "The ruling doesn't say that explicitly, but that's what is going to happen."
The AACC is alarmed by these actions against Christian students in secular state universities—graduate programs that are often chosen because of their reduced costs compared to private, Christian seminaries and graduate schools. We now wonder whether these actions will give secular programs a green light to rail against Christian students and their sincerely held biblical beliefs, driving them out of such programs entirely. We are considering a number of systemic-structural responses in defense of Christian student rights, and we will keep you—our dedicated AACC membership—informed about both these anti-Christian actions and what AACC intends to do in response to them in the very near future.
Sources:
http://www.foxnews.com/us/2010/07/27/georgia-university-tells-student-lose-religion-lawsuit-claims/